Amy Shackleton | Imagined Futures
Saturday, July 15 - Saturday, Aug 5

Artist Reception:Saturday, July 15 @ 3-5 pm
with an artist talk at 3:30 pm 
RSVP your attendance to responses@wallspacegallery.ca


Wall Space Gallery presents Imagined Futures, a solo show of innovative drip paintings by Oshawa-based painter Amy Shackleton. Across each canvas, Shackleton collides cityscapes and natural
structures in a maelstrom of movement and fluid texture. Canyons, trees, and buildings alike dissolve into flows directed by gravity. This newest body of paintings depict hybrid spaces from locations around Toronto, Lake Louise, Colorado, Arizona, California, Chicago and Hawaii.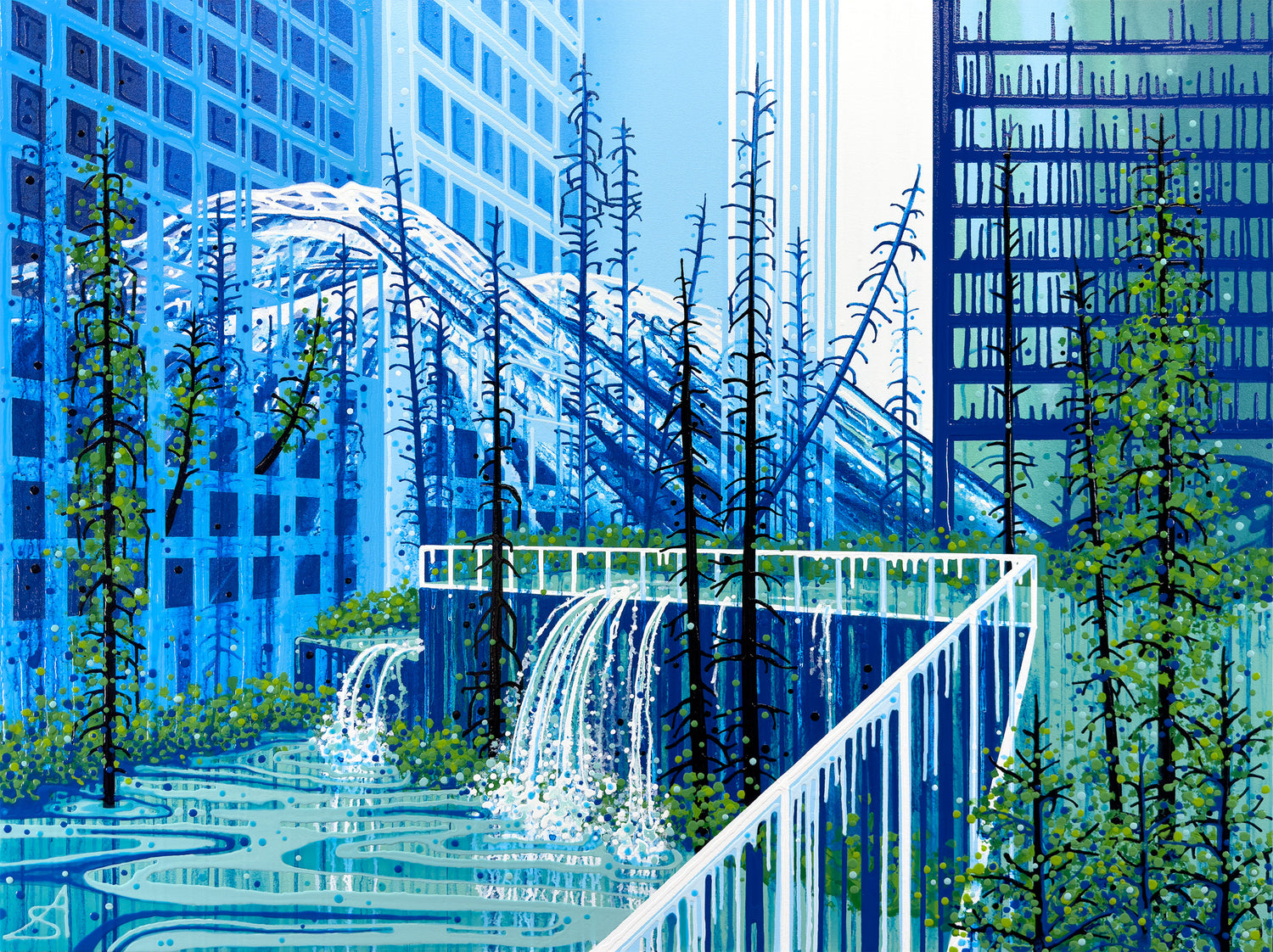 Shackleton speaks to her uncertainty for the future amidst the encroaching climate crisis in colour palettes that are seemingly in complete contrast to sentiments of worry. Her worlds cascade with kaleidoscopic and harmonious palettes that suggest her underlying hope and anxiety. The question remains, are these cities – overgrown with plant life and streams of water - in a state of abandonment? or are they visions of an ecological balanced future between humanity and nature? Shackleton refuses us a solid answer, and this refusal reflects a deep sentiment in the contemporary social psyche.
(Above) Watering Hole (Maui + Chicago + Kootenay NP), acrylic on canvas, 60 x 45 in, $8200
My artwork portrays the harsh reality of the current state of our planet, depicting the devastating effects of burnt forests, floods, and melting glaciers...By exploring the tension between utopian and apocalyptic visions, I hope to inspire people to take action and do what they can to create a more sustainable world for ourselves and future generations.

Lagoon Falls (Colorado + Toronto), acrylic on canvas, 45 x 60 in, $8200,
Ups and Downs (Chicago + California), acrylic on canvas, 30 x 45 in, $5350,
Wild Crossing (Maui + Chicago), acrylic on canvas, 30 x 30 in, $4500
In the Floodlight (Colorado + Chicago) pulls us between a scene of decay and renewing life. Its pleasing sunset-pink sky infuses the scene with beauty that dangles on the edge of dystopian. The pink contrasts with the almost acidic yellow-green of the plant life and strong white currents of water pouring over the rooftops of the skyscrapers.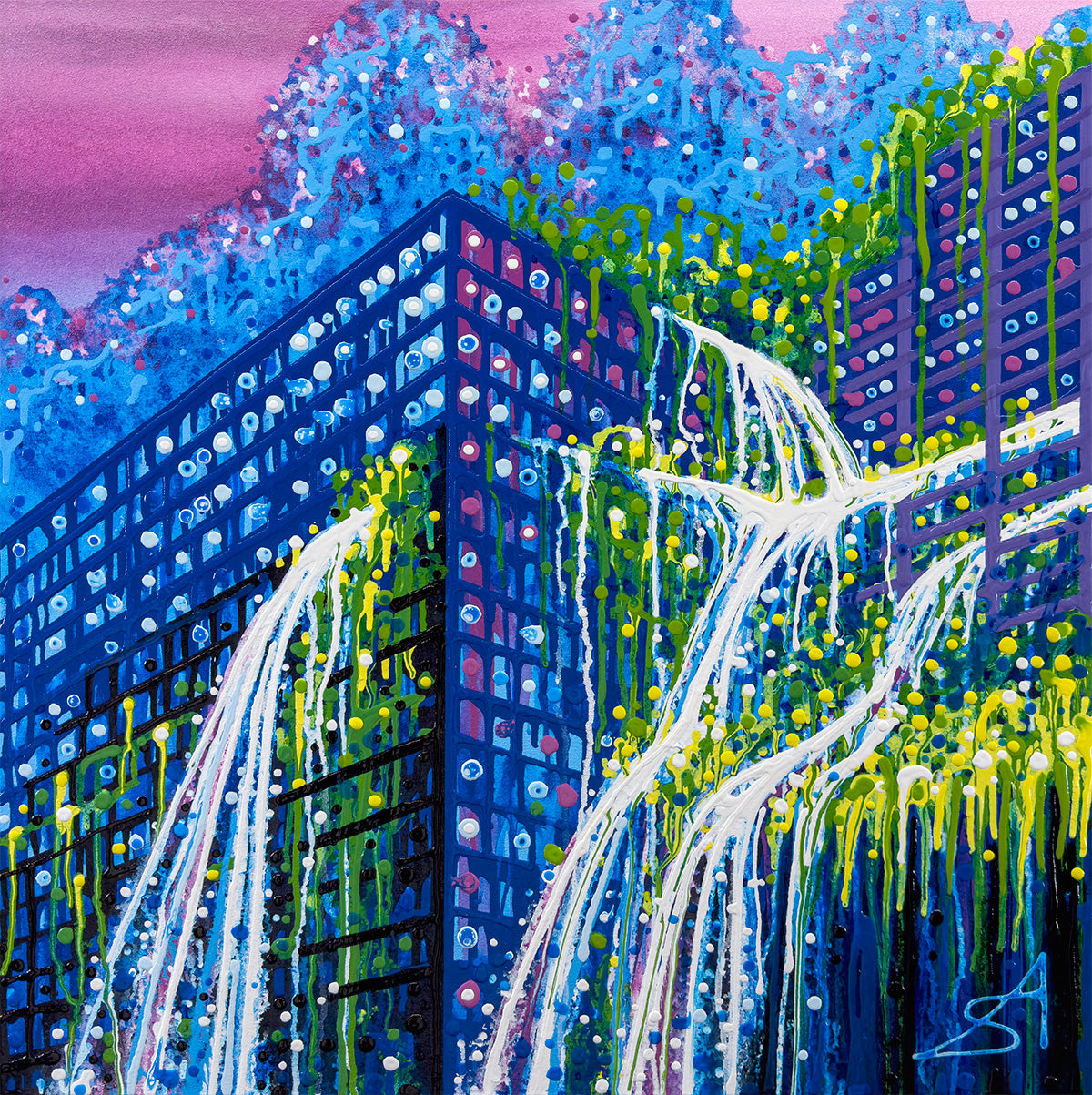 Shackleton settles us into a feeling of mild
unease as these streams of nature flow through the building itself, spouting from windows. And yet, these windows are not desolate. Their facades are dotted with drops of paint that could be figures, eyes, or lights emanating from within.


(Above) In the Floodlight (Colorado + Chicago), acrylic on canvas, 30 x 30 in.
"Initially, I used highly saturated colours to express my optimism for a bright and colourful future. However, after having children, I became increasingly concerned about the world we're leaving them. Although my colours remain vibrant, their meaning has evolved to signal alarm and urgency. Some of my work evokes feelings of unease, while other pieces envision a beautiful world where nature and humanity are working together. By depicting both of these potential futures I want people to stop and think about the relationship between nature and cities and its impact on us all."

- Amy Shackleton
Twilight Shift (Arizona + Toronto + Lake Louise)

Acrylic on canvas
45 x 45 in



Learn More

Glowing Light (Arizona + Toronto)

Acrylic on canvas
60 x 45 in.




Learn More

Rising Tide (Colorado + Toronto)

Acrylic on canvas
16 x 16 in.




Learn More
Shackleton uses gravity's energy to her emotive advantage. Relying solely on dripped paint combined with sprayed water and a rotating easel, she carries us through soft gradients of colour and dramatic lines. In pieces such as Rising Tide (Colorado + Toronto) and Watering Hole (Maui + Chicago + Kootenay NP), Shackleton offers moments of lightness, pulling us upwards in elevating drips before pulling us back to earth again.

- Tiffany April, Curator
Imagined Futures Catalogue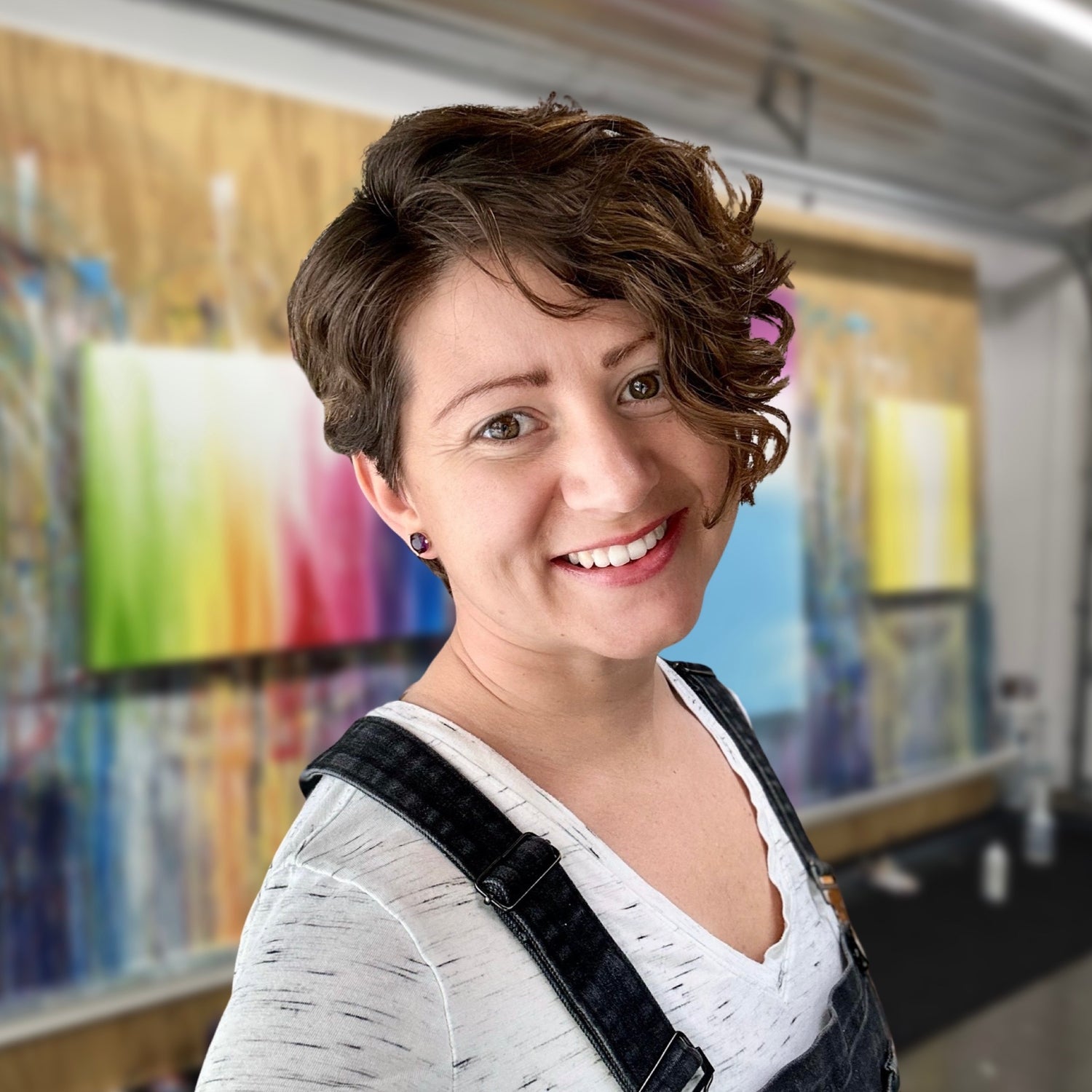 Amy Shackleton is a professional visual artist – a skilled urban landscape painter with an inventive technique embracing gravity. Her background includes a Fine Arts Honours Degree from York University (Toronto, ON), an extensive exhibition history, including a 2017/18 National Tour exhibiting her 53-foot interpretive panorama of Canada, and paintings displayed in hundreds of private and public collections, including THE MUSEUM, Colart Collection, Facebook Canada, and the University of Cincinnati. She works from her studio in Oshawa, Ontario.