Vanessa McKernan | Revelation in the Garden
Thursday, April 13 - Saturday, May 6
Artist Reception: Thursday, April 27 @ 5 - 7 pm
with an artist talk at 5:30 pm
RSVP your attendance to responses@wallspacegallery.ca
Wall Space Gallery is thrilled to present the latest solo-exhibition by Toronto-based painter Vanessa McKernan. McKernan has built a striking visual language drawing from myth, art history, and personal experience. Her figurative paintings in oil paint and oil stick feature flowing forms that
bleed into one another, blurring boundaries between 'the self' and its surroundings. McKernan creates imagined spaces that encapsulate the tumultuous inner workings of the self and the fragility of relationships with the outer-world.
(Left) Revelation in the Garden, oil on canvas, 48 x 48 in, $4900, (Top Right) Transfiguration in Moonlight, oil on canvas, 48 x 48 in, $4900, (Bottom Right) Lavender, oil on canvas, 16 x 16 in, $900
The allure of the open space of the garden manifested for McKernan during repeated
segments of pandemic confinement. A garden's sanctuary and potential for growth resonated in contrast to her experience in lockdown in Toronto's urban landscape. The garden became symbolic of a yearned for idealized life.
 McKernan personifies her subconscious through the sensuousness of the garden-scape. Through her use of luminous colour contrasts and post-impressionist mark making, flora and human forms mimic one another and are infused with vibrational energy.
With My Shadow, oil and pencil on mylar, 11 x 17 in, framed by Wall Space, $985

Learn More

Lovers in the Grotto, oil and pencil on mylar, 11 x 17 in, framed by Wall Space, $985

Learn More

By the Hydrangea, oil and pencil on mylar, 11 x 17 in, framed by Wall Space, $985

Learn More
"The works in Revelation in
the Garden ask existential questions about life, death, love,
relationship and the human psyche. The garden acts as a mythical setting for
the figures who move through experiences of suffering, re-birth, revelation,
and transformation."

- Vanessa McKernan
Within these gardens, McKernan's figures navigate the complex experiences of striving
along paths of self-discovery, grief, love, and caring. With arms raised to the sky and grasping bouquets of flowers they are faced with shadowy and mystical apparitions of light. Unlike an idealized utopia, McKernan's gardens present as empathetic refuges, offering to contain and support the full spectrum of the self.
(Top Left) Conversation in the Shade, oil on canvas, 30 x 60 in,$4000, (Bottom Left) Les Coqueilcot, oil on canvas, 24 x 36 in, $2200, (Right) Once Buried, oil on canvas, 48 x 72 in, $7400
"These painting are the result of an intuitive conversation with color,
line, and form. In the process of making them I felt I was chasing compositions
that were both spiritual and elusive. Even now, though complete, they continue
to hold a sense of mystery."

- Vanessa McKernan
Raised in a Catholic background, religious artworks were some of the first images McKernan recalls from childhood. However, McKernan does not attribute her figures' expressions to looks of piety or rapture. Rather, their expressions are born from navigations of the inner-self caught with interventions from the outer-world.
- Tiffany April, Curator
The Youngest, oil and pencil on mylar, 17 x 11 in, framed by Wall Space, $985
Revelation in the Garden Catalogue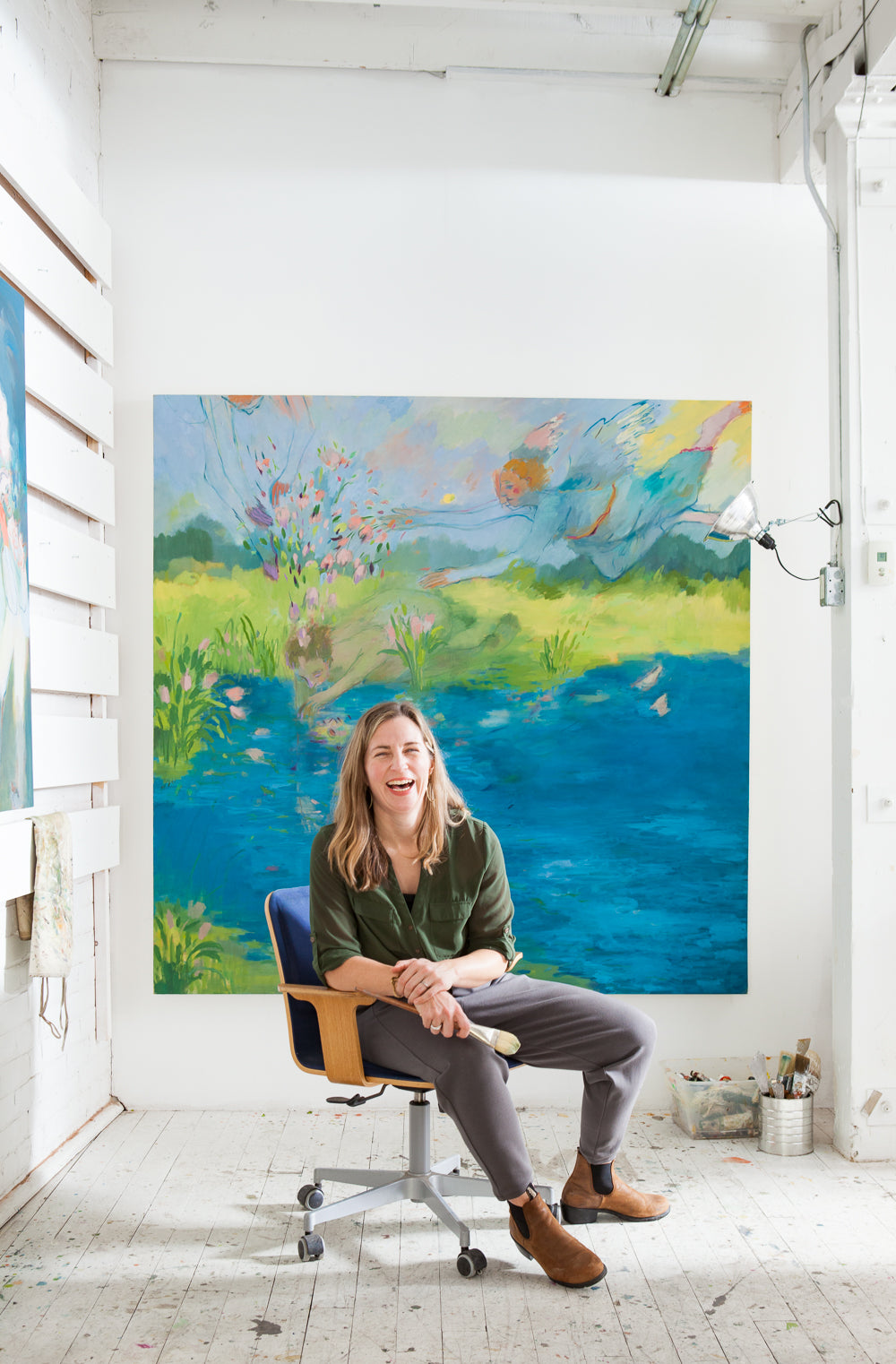 Vanessa McKernan
B. 1981. Vanessa McKernan is a visual artist living and working in Toronto. She works on canvas, wood, mylar and paper with both oil and water-based materials. Vanessa studied Painting and Drawing at Concordia University and completed her honours BFA in 2006. In 2020 she was awarded the prestigious Elizabeth Greenshields Foundation Grant for emerging artists